Intro to geek toys.
This is one of the few pages on HTMLFixIT that serves no real purpose, except maybe to make us drool. And perhaps to encourage breaking the tenth commandment.
10: Thou Shalt Not Covet Anything That is Thy Neighbor's

Here you will find everything I've found on my travels that I would do nearly anything to own. If anyone wants/needs me to do something, use this page as your pricing guide



Laptops, PDA's, Smartphones, music/video players, I plan to put my pics from each category on this page and it serves two purposes:
1. It serves to demonstrate useful (and cool) advances in technology.
2. It allows me to experiment with Google ranking and adsense system.

Motorola E680 Linux smart phone.

In line with my theory that one should not have to lug around a PDA on one hip, and a phone on the other comes this new Motorola smartphone. It looks like a PDA, it has a touch screen, and it has full phone functionality.

The E680 has full music capability with 16mm 3D stereo speakers, can take a 1 gig secure digital card, supports USB, GPRS and Bluetooth. It has software that supports various music and video formats including MPEG4 video, MP3 audio, RealPlayer content and MIDI ring tones. Apparently a deal with MTV will provide content to non US customers. The screen is 240x320 pixels and supports portrait and landscape modes.

The unit has a WAP browser and supports E-mail, MMS and text messaging. This thing also has a VGA camera with 8 times zoom (the documentation I've read didn't indicate whether it's digital or optical zoom, but I'm guessing that it's digital, which makes it next to useless, but better then nothing I guess.)
Oh, and it also supports Java J2ME games, but best of all folks, this puppy is running Linux, so it should be much more responsive then the XDA mini I read about recently which is running Windows CE 2003 and performs many of the same functions. (I've read that the XDA mini can be quiet sluggish in it's response due no doubt to Microsoft's proclivity for bloatware.) Right now this unit is my favorite, but apparently there are a plethora of new Linux smart phones on drawing boards around the world, so that could change at any time. The device is quite stylish in design, and from the shots I have seen, the control system is good looking and user friendly. See Motorola's page for the device and some screenshots here.
Sharp Zaurus SL-6000L Linux PDA.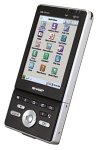 Now this is one cool puppy. A PDA that can do pretty much anything a laptop can do. The SL-6000 has a four inch fully VGA (480×640) capable screen, a hideaway QUERTY keyboard, 802.11b / bluetooth wireless connectivity, CF and SD expansion slots and a USB host port. Best of all, it runs Linux with a full suite of tools and applications, and full multimedia capabilities.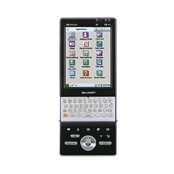 This is quite a large unit by PDA standards, and that might be a problem for some, but it wasn't that long ago that I was carrying around an analog mobile phone that was bigger then this thing. (and allot heavier to boot.) And the sheer usefulness of this thing makes up for its size and weight in my book. The SL-6000 is powered by a 400 MHZ Intel XScale processor, with 64MB of SDRAM, a 1500 mAh Lithium polymer battery and an Infra-Red port.
For software, you get the afore mentioned Linux operating system, Hancom office for your document needs, Opera for your web browsing needs as well as a media player, voice recorder, e-mail, PIM and all the other usual suspects. There is even software you can use, (based on VNC) that will allow you to take over your desktop computers screen remotely.

The USB port is a very useful addition, you could plug in a full sized keyboard, and imagine plugging in an external hard drive? The possibilities are endless.
There is a thriving online community supporting the Zaurus family, and a ton of after market apps are available. This is not so much a PDA as it is a micro hand held computer. Like I said, all up this is one very cool piece of kit. I simply must have one, at least till the next model comes out, in which case I want that one. It is a little pricey though, you can expect to part with somewhere in the vicinity of $700 dollars to take one of these babies home. If it is missing anything that I'd like to see, that would be the lack of games and maybe some basic mobile phone functionality. I am not so much a geek that I'd like to wander around with a separate phone, a PDA and an MP3 player strapped to my body at the same time, so I'd like to see some devices that combine all of the afore mentioned features without having to skimp on any of them. The Zaurus is big enough that some phone functionality would have fitted in nicely and it's already equipped as a music player.

Check out the Sharp site for more information on the Zaurus range.
Neonode N1 smartphone.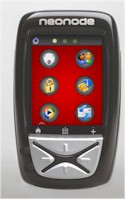 I don't actually know much about this phone, I've never seen one, and I don't personally know anyone that has, but just look at this thing. It's tiny, and instead of a keypad, it uses a touch screen. The screen in question is a 176 x 220 Pixels 65,535 Color TFT. The inbuilt camera can take 640x480 images, the photos of which you can store on the 64MB SD card it comes with. Another cool feature, is that you can play your favorite MP3 or WMA file as your ringtone. Oh and it's a music and video player as well (music via the inbuilt speaker or the stereo headset). The last feature I'll mention here, is that when you plug this into your computer with the supplied USB cable, it charges the battery, so every time you sync up, your charging up as well.

I'm not going to go into much detail on this one, because all I can do is read the specs online, something you can do yourself by heading over to the Neonode site. It is too early to proclaim this one as a "must have" as it only just came out, and nobody seems to have one yet. One thing for sure, be careful where you pull one of these things out. In the wrong place, you would be inundated by appreciative geeks. I've not yet found any indication of what the price is going to be yet either.
mp3 Blue MP3 player jacket.
This is another one hot of the press (no pun intended

), a jacket that has an MP3 player built into it, the controls are sewed onto the arm of the jacket and the same controls can be used to control your mobile phone as well. Another cool thing it does, is that when your phone rings, the stereo headset will swap over to handle the handsfree tasks (via bluetooth I believe), and lower the MP3 players volume accordingly. I don't have a picture of this one, but you can see it for yourself be heading over to http://www.mp3blue.de.

There are a couple of problems with this that I can see, for one thing, it only has 128MB of storage at present. (though that's likely to change) and what do you do when it is too hot for a jacket? Still, it's cool and it's geeky, which means that it has earned a place here.
O2 XDA II.
This one wouldn't normally go in my Geek kit section, the screen is only 240 x 320px and I prefer 480x640, but it would do in a pinch. It does have a 400MHz Intel XScale PXA264 processor and 128MB ram, which is pretty good. It also has a VGA camera, a slide out keyboard and best of all, it's a phone.
The main thing I don't like about it, is that it runs Microsoft PocketPC, but I guess you have to make compromises sometimes. I'd love to see phone capability added to one of the Sharp Zaurus models, then I'd have the perfect device. I just want one device that takes care of my music, data and phone needs. I'm not so geeky that I want to run around with half a dozen devices strapped to my person. That device has not arrived yet, but from the look of the plethora of devices hitting the market, and the release of several new mini hard drives, it can't be far away now.



This site is totally free to use, you have absolutely no moral or legal obligations to help us continue.
There are however, some costs involved in running the site.

<random humor>
Plus Don kids keep asking for a better allowance.
</random humor>
So if this site helped you find your way, perhaps you could consider contributing to our costs. Whatever amount you feel this site was worth to you would be just wonderful.
Use PayPal if you do decide to share and help us with the costs and in appreciation for our time and attention, or alternatively buy a book from our Bookstore..
Time in Don's part of the world is: September 29, 2023, 3:33 am
Time in Franki's part of the world is: September 29, 2023, 4:33 pm
Don't worry neither one sleeps very long!


privacy policy :: support us :: home :: live chat help
contact us :: forum ::tutorials :: bookstore :: Site Map