Friday, February 15th, 2008
by Don
So I find that Microsoft has once again decided to switch things up in the Excel world with the xlsx file format. Why would you not build in backwards compatibility? Because you choose to make it inconvenient in hopes of forcing people to buy your new product? Fortunately they do have a tool to allow you to open the new format in your "old" program. However to use it you need to update your Microsoft environment and even in this age they FORCE you to use Internet Explorer.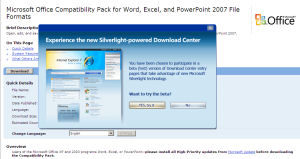 I fire up Internet Explorer (I used it very very rarely) and go to Microsoft and the first thing that they do is of course ask me if I want to be part of their beta program for the Silverlight Download Center. Why? What advantage to me? No.
Next they require me to download the validation tool to be sure I'm not cheating them. Now I can really go get the "Microsoft Office Compatibility Pack for Word, Excel, and PowerPoint 2007 File Formats". Hopefully it works and I can open my Office 2007 file in my Office 2003. What a bother. I much prefer Open Office anyway, but this time it didn't work for me to open the Office 2007 file. I bet that won't last long.