by Don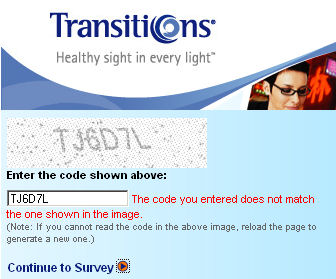 Sometimes something in life is just funny. Today I went to register my new lenses, a set of "transitions lenses" that tint in UV rays. So what was so funny? I couldn't read the captcha they presented me with my fancy new glasses!
This is my second set of transitions lenses. I had a pair of glasses approximately four years ago that had them and I came to really like them. They have three major drawbacks:
They don't zero tint even indoors — this has absolutely no effect on me, I can see fine, but people look at you and think, hmmm, wearing "rose" colored glasses (of course it isn't rose in my particular case, but it is a very minor tint almost always).
They don't darken when you are in your automobile because the auto glass filters the UV rays. If you have a convertible, no problem, otherwise you need to either roll down the window and hang your head out (it's cold here today, and bright because of all the snow cover) which isn't necessarily the best way to stay focused on the road, or you need to take them off and hold them out the window — scared for your life that you may drop them at any second and plus you can no longer see the road because you took your glasses off, duh!
You have to wait a minute after going to darker environs for the glasses to un-tint. This is the one everybody always talks about at the eye doctors office, but to me is the least significant. Heck, they're all steamed up from coming out of the cold weather anyway, and even in sunglasses you can see in most light conditions.
So why transitions? Well because I was tired of alternating between losing my clip-on's and or not having them with me when I needed them. The same would be true if I had a pair of sunglasses (with or without contacts). So this way I have them on and I am good to go. I hope I like them because they were darned expensive glasses (progressive bi-focals, lighter lenses, with transitions and anti-glare coating) and insurance will only help with the cost (AND I DO MEAN HELP) once a year. I save up and buy one eye's worth in one year and the other in the next year and then I pay the other third. So I cannot do it again for two years.
16 Responses to "Transitions Lens: Healthy Sight (or Site) in Every Light"
Leave a Reply